How to use Instant Collections
What's an Instant Collection?
Instant Collections are Collections with preloaded fields and training for popular document types like ACORD forms, loss run reports, and more.
While a standard Collection is a blank canvas you customize yourself by adding your own fields and training, an Instant Collection already has fields and training built in for you.
Instant Collections are still just as flexible and customizable as a standard Collection — they just help you get going faster.
Example use case
Let's say you have a group of ACORD 25 forms you wanted to extract data from. You could create a Collection, then import the Instant Collection for ACORD 25 forms.
Add your ACORD 25 forms and this Collection will automatically extract fields and values without you having to add these fields individually.
✨ In other words ✨
🍕 Imagine you're at a pizza place.
Using a standard Collection is like choosing a "build your own pizza" option where you can customize a pizza in any way you'd like.
However, using an Instant Collection is like ordering from a list of popular favorites, like Supreme, Hawaiian, or Meat Lovers. The work of curating pizza toppings and their amounts has already been done for you. You could order it as is, or you could customize it further by adding or removing toppings.
Of course, you could still choose to build your own pizza (standard Collection) and end up with a Supreme pizza (Instant Collection), but choosing a pre-set option from the menu could save you time and effort.
How to use an Instant Collection
Step 1 of 3: Choose your Instant Collections
Go to our Instant Collections page and find the document type you need from the library.
Click the Instant Collection you want and you'll be prompted to sign into your Impira account.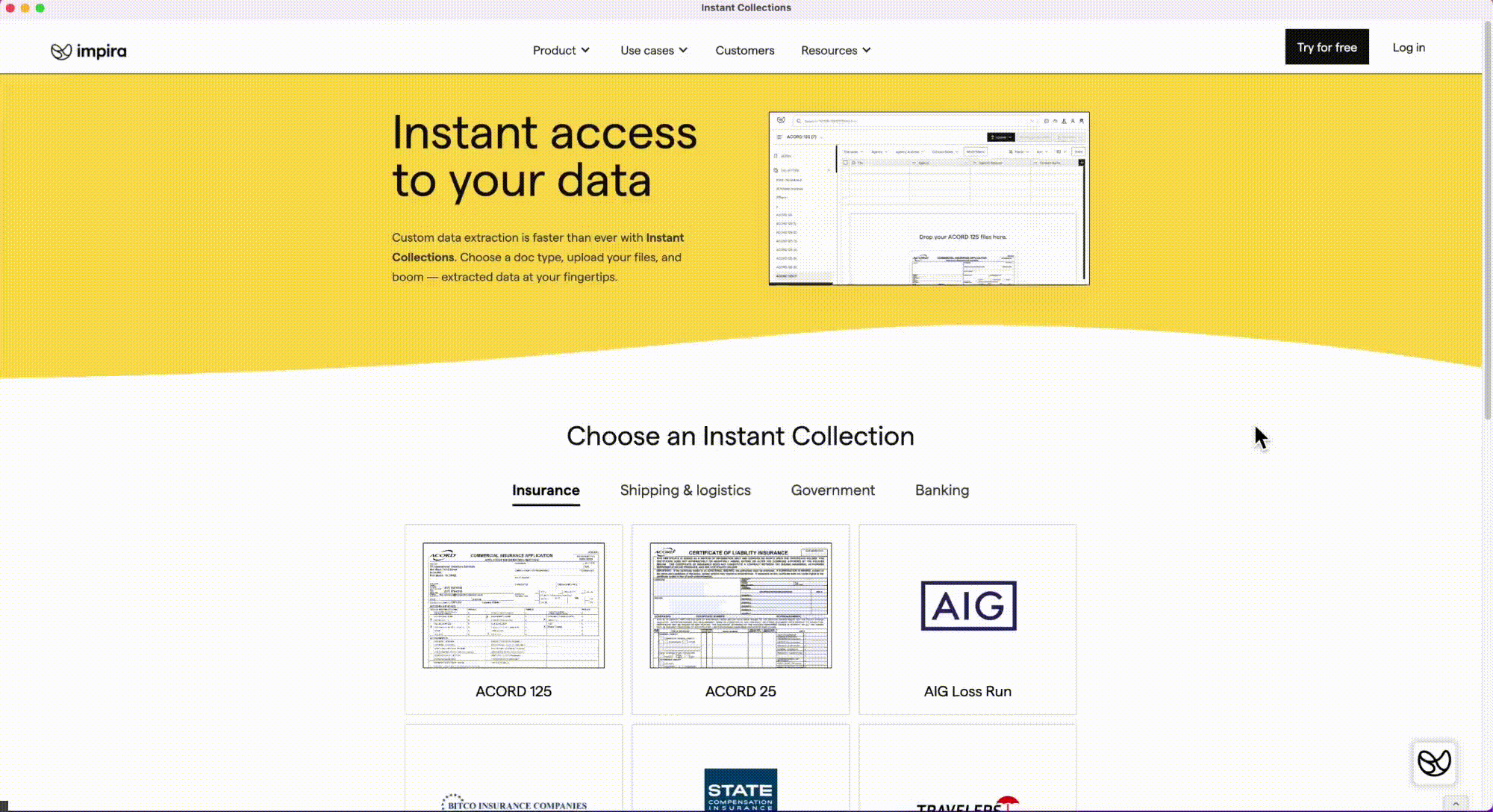 You'll see that your new Instant Collection has fields already in place, ready for you to upload your files.
Step 2 of 3: Upload files and check results
Upload files matching this document type to your Collection.
After your files process, open your first file to check the initial batch of predictions.
Step 3 of 3: Edit values, and add, delete, or rename fields as necessary
Edit values
As Impira extracts data from the files in the Collection and brings back predictions, you may see some missing or "Review recommended" cells with red markers. Impira learns to produce better predictions whenever you correct any incorrect prediction values.
Double-click a "Review recommended" cell.
Select or type the correct value. Hit Confirm value and blue box when you're done.
Note
: Confirming correctly predicted values also helps Impira learn and become more accurate.

Add additional fields
Click New field in the top right corner.
Choose your field type: Single text value, checkbox, or table.
Name the field and highlight the value on your file.
Click Create field.
Read more
about adding various fields to your Collection.
Delete fields
Option 1: While in Collection view, click the three dots by the field you want to delete. Hit Delete.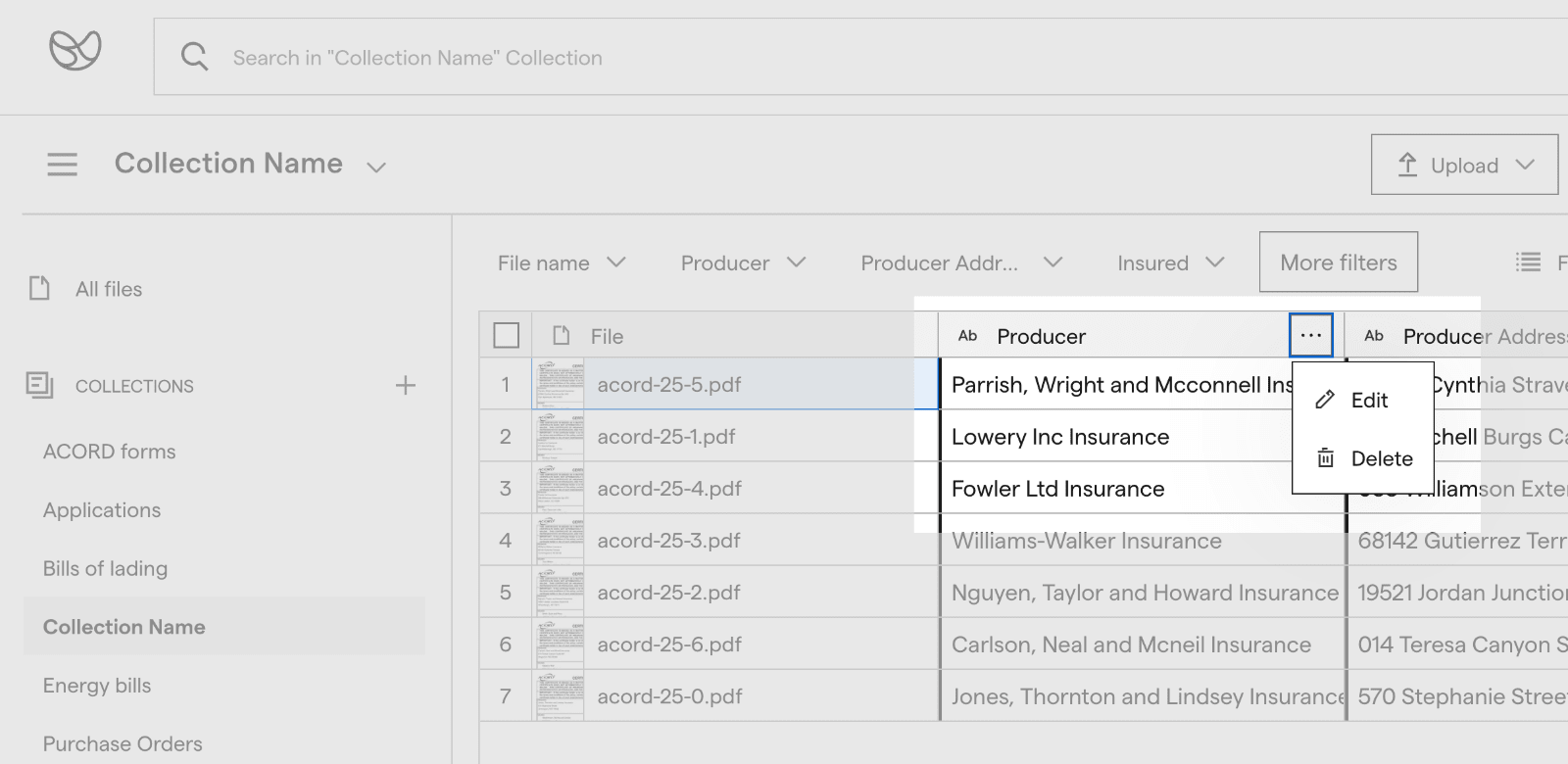 Option 2: Double-click a file to open it in Extraction view. Hover over the field you want to delete and click the trash can icon.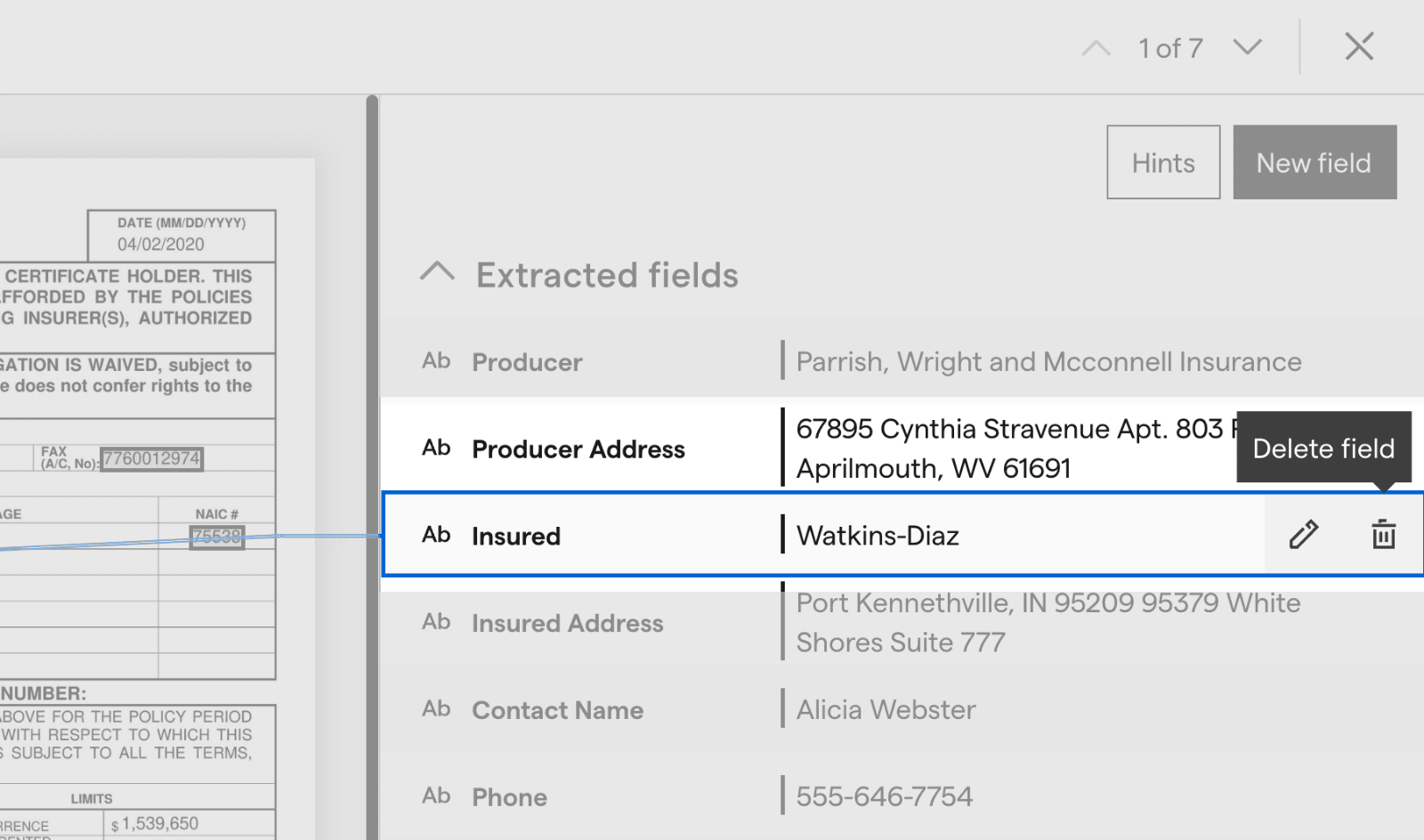 Rename fields
While in Collection view, click the three dots by the field you want to rename. Hit Edit and rename the field.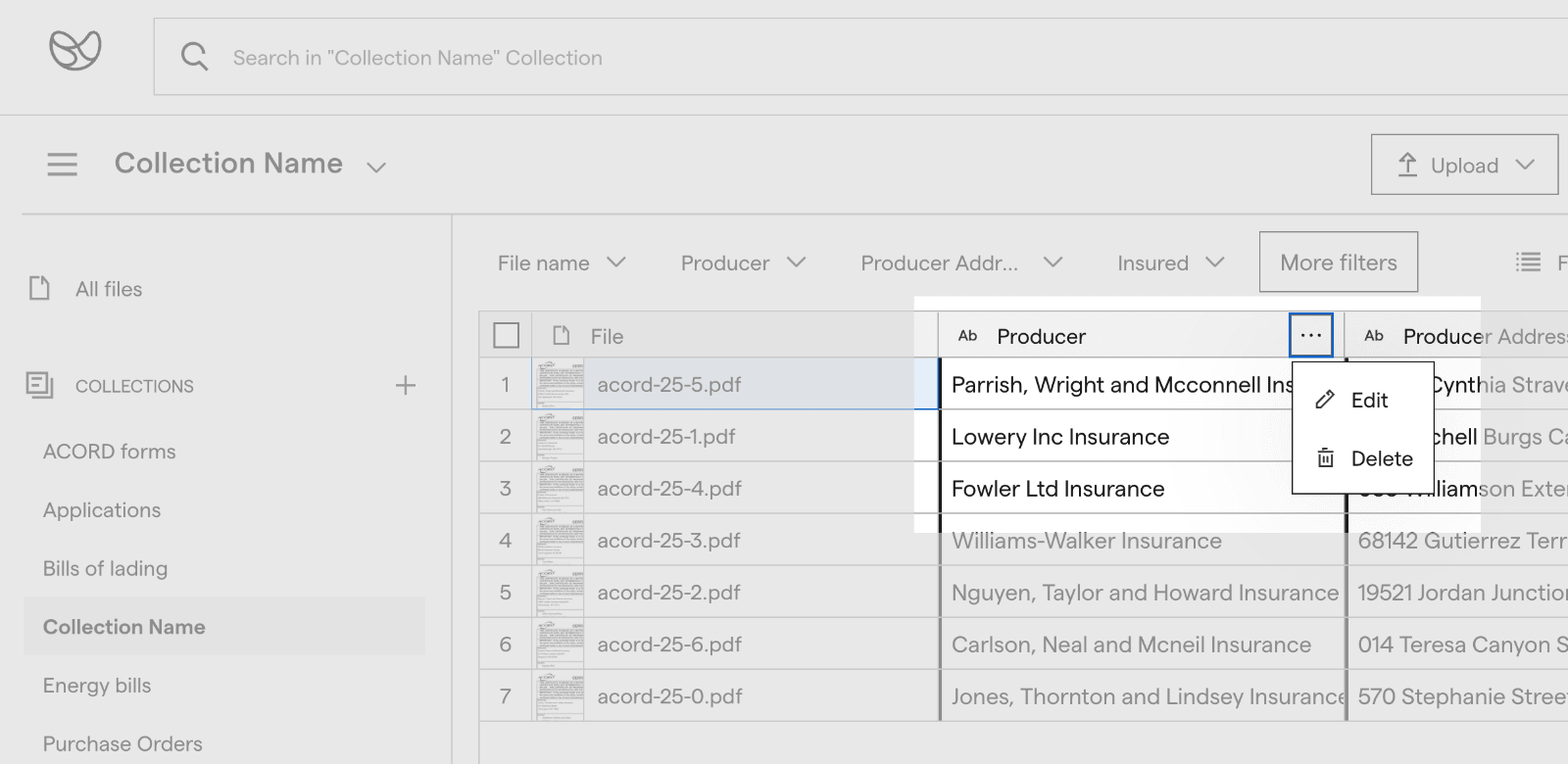 Alternative way to create an Instant Collection
Start by having a new Collection with or without uploaded files. You'll import the Instant Collection into this Collection.
Go to the dropdown menu next to your Collection's name and choose Import fields.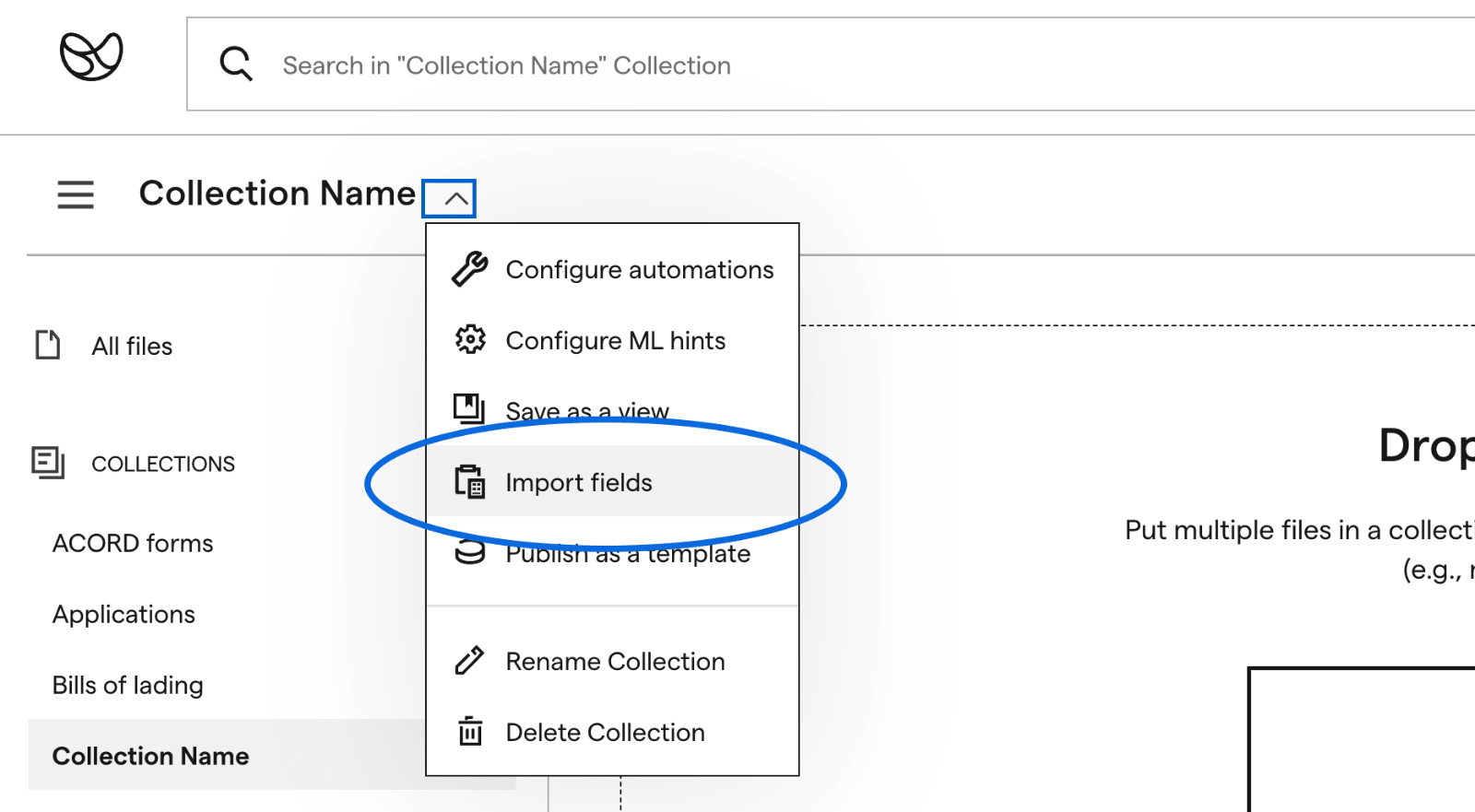 Choose a document type from the Instant Collection library and hit Confirm. This imports the fields and training data from the Instant Collection.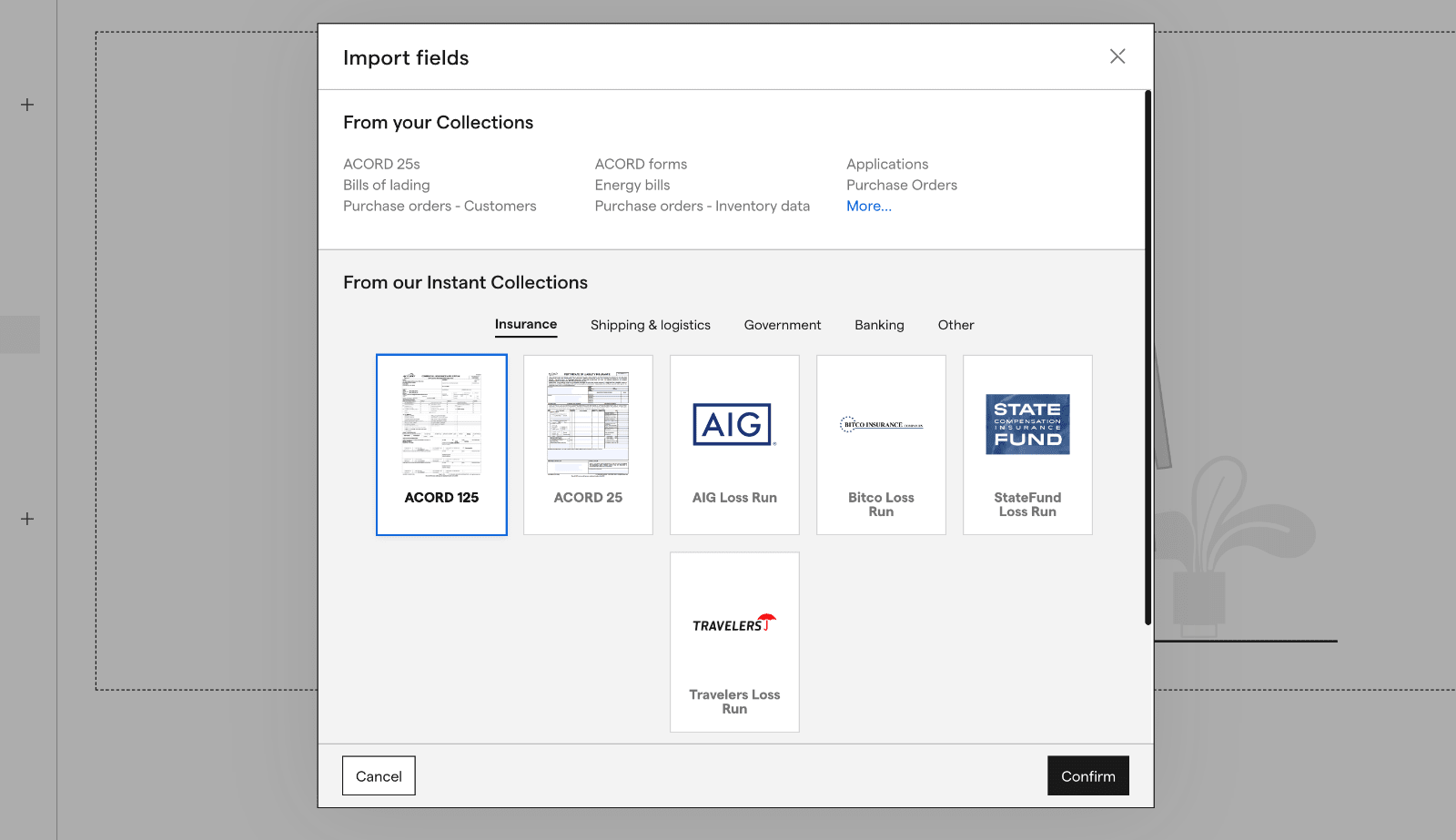 Go to Step 2 to upload your files.
Don't see the Instant Collection you need?
If you don't see what you need in the Instant Collection library, request the document type you want.